We left Nabavatu Plantation on 7 July and set sail for Wailagilala.  As we were approaching the anchorage, we were hailed on the VHF by our friends on SY Mersoleil.   Apparently, a boat had gone up on the rocks just outside the pass on Vanua Balavu and they were concerned that it was SY Amandla.  Luckily, that was not the case.  A bit of confusion ensued as we could hear SY Mersoleil but they could not hear us.
Finally, after we had dropped anchor, we were able to send a radio relay via our friends on MV Domino to let SY Mersoleil know we were not at risk. Whew!  Now it was time to relax. But while we enjoyed a sprawling, empty beach in Wailagilala, we were also treated to a lively anchorage.
After two days of rolling, we decided to lift anchor and take an overnight sail to meet up with our friends on SY Exit Strategy in Paradise…a wonderful, very yacht friendly resort on the southwest tip of Taveuni Island.  Unfortunately, the forecasts had changed so we only stayed in Paradise long enough to procure some fresh produce from their garden of eden.
But we were hooked and knew we'd be back when the weather was right.
After a two hour sail from Paradise, we picked up one of Jack Fisher's mooring balls in Viani Bay and immediately went to sleep. We had just done an overnight passage and were in need of a few winks.
After we awoke, Jack, the patriarch of Viani Bay, came over and introduced himself.  Jack is legendary for his knowledge of dive / snorkel spots in the area and for his wonderful tales.  Jack also acts as the intermediary for the chief of the region, so we did an informal Sevusevu with him on SY Amandla and enjoyed his many stories.
We were then treated to two days of inclement weather although we were very comfortable in the anchorage.   On the third day, we finally set out with Jack and Ilene and Ken, the crew of SY Silver Ruffian, to the Fishfarm for our first of three Rainbow Reef snorkels.
It was just a small part of an expansive underwater nirvana.
One could spend multiple seasons here and many do.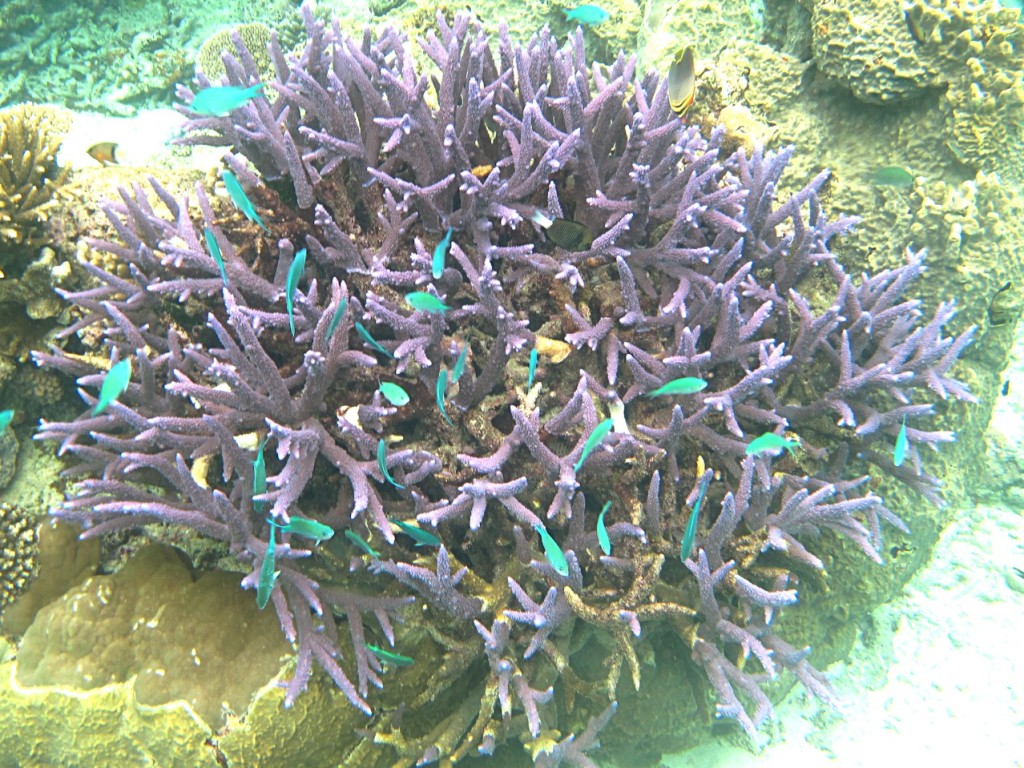 My burgeoning photography skills don't do it justice.
The next day, John from MV Tiger joined our group and Jack took us out on the Long Boat to do a drift snorkel along the Pass to the Mini Cabbage Patch.
We were out again the following day, this time Dean and Sabina from SY Local Talent, Margy and Monty from SY Whistler and Sergio and Johanna from SY Spirare joined the growing group of snorkelers.
After three days of snorkeling, it was time for some land based fun.  I signed on with the crews of SY Silver Ruffian and SY Whistler for a trip to the Tavoro Waterfalls in Taveuni.
Jack Fisher arranged everything.  He ferried us over to Meridian in Taveuni where we procured some very inexpensive vegetable and chicken Roti (FJ$ 1.2 a piece) for lunch and then took ah hour long taxi ride to Bouma National Heritage Park.
The trails to the Tavoro Waterfalls in the Park were somewhat steep but wonderfully maintained. And we were rewarded with a swim underneath the falls after the ascent.
We hiked to the first two waterfalls. There was a third section with three more falls that were supposed to be AMAZING (and also swimmable) but we had to get back to town for some provisioning and so we missed them.
After returning to town and provisioning, we headed over to an International Dateline landmark in Meridian.
It was my birthday on the 'Today' side of the Dateline.
And the great thing about being on the Dateline was that I got to celebrate my birthday two days in a row.
For Day 2 of the birthday celebration, we returned to the Paradise Resort to dine with our friends Dean and Sabina.  The celebration included a large chocolate cake courtesy of the Resort.
After enjoying a few wonderful days in Paradise, we are lifting anchor at midnight to sail onward to Suva via Makongi, Ovalau, and Beqa.
I don't know if we will have internet over the next 10 days but I am certain we will enjoy many beautiful sunsets.