I was certain I would dislike Bali given the multitude of tourists that visit here each season. But it was love at first site when we sailed into Ambat Bay, Amed at sunrise on 4 September, a love that grew with every passing day. If I wasn't on a quest to circumnavigate the world under sail, I could have stayed here forever. Bali was an immersion for all the senses.  Let me share some highlights with you.
USAT Liberty Wreck – On 5  September, we sailed SY Amandla from Ambat Bay to nearby Tulamben (08° 16.46 S, 115° 35.55 E) with our friends from SY Tiger Lilly and SY Twenty-Twenty Vision to snorkel the wreck.  The USAT Liberty was torpedoed by the Japanese in 1942 15 km southwest of Lombok. She was towed to Bali by a US destroyer and was beached at Tulamben after her crew were evacuated.  The Japanese advance prevent recovery of her cargo.  The eruption of Gunung Angung in 1963 caused the hull of the ship to slip into deeper water and break into a few pieces.  Now home to a variety of fish, it is the most popular dive site in Bali. We went early to avoid the crowds.
Galungan – On 6 September, while on a land tour of the island, what most caught my eye was the penjor lining the streets of Bali.   And it seemed that everyone was involved in creating more. Apparently, every family has one. We asked our knowledgable driver Nangah (+62 819 3632 4249) about their significance and he explained that they were for Galungan, a very important religious holiday happening the very next day.
Galungan celebrates the victory of dharma (good) over adharma (evil), marking the time when the ancestral spirits return to earth. Offerings from the harvest are placed at the base of the penjors to welcome the ancestors.
We were keen to see the Galungan celebrations in action and arranged with our driver Nangah to take us and our friends from SY Tiger Lilly to visit two temples. Given the importance of this holiday, the stores are shuttered all morning and the locals don their finest clothing. Nangah provided The Captain and our friend Tom (Captain of SY Tiger Lilly) with ceremonial sarongs and undeng head coverings to attend the celebrations.
Our first visit was to Pura Maduwe Karang, a beautiful seaside temple with notable carvings.
The most unique relief is thought to be of WOJ Nieuwenkamp, the famous Dutch painter who toured Bali by bicycle in the early 1900's, perhaps the first bicycle ever seen by the Balinese.
Next we visited another seaside temple, Pura Ponjok Batu, which was brimming with celebrants.
The celbrants presented offerings, prayed en mass, and were cleansed symbolically by the sea.
After the morning celebrations, we enjoyed a lovely lunch and were given bountiful gift bags from our driver Nangah; unexpected but welcome. A good day was had by all.
Lovina Festival – After Galungan, we sailed northward from Amed to renew our tourist visas and enjoy the 5-day festival celebrating the hidden beauty of Lovina.
The festival, now in its fifth year is not held solely for the Sail Indonesia Rally, but the Rally participants were guests of honor.
A welcome ceremony was held on the first evening of the festival with music, a parade, dance performances, welcome speeches, and a delicious dinner for the fleet.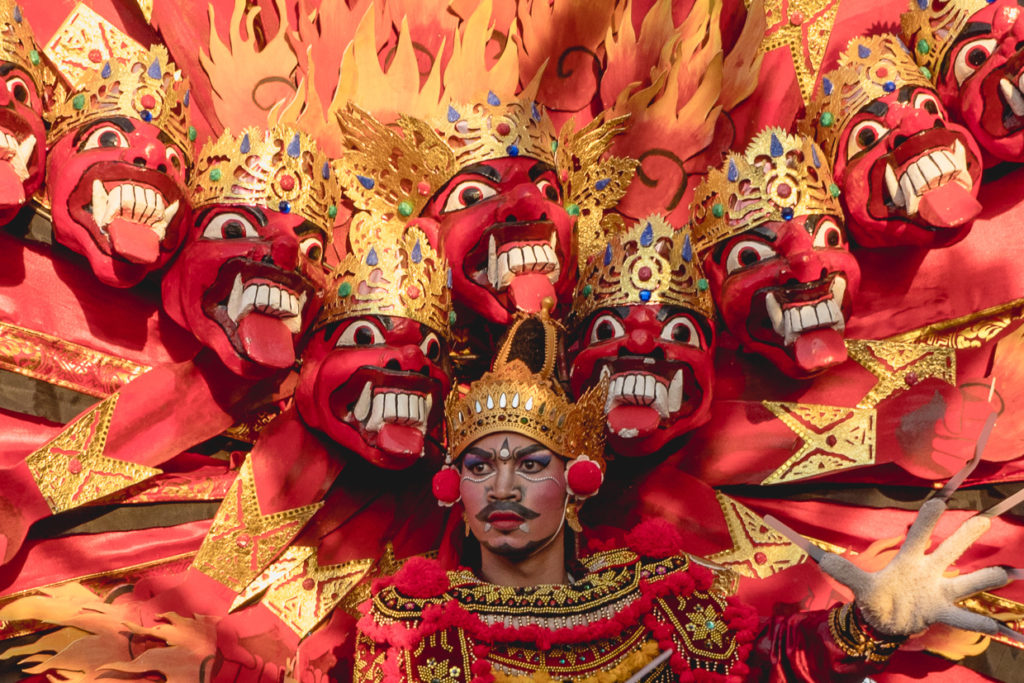 The second day of the festival included a friendly bull race with more music and dancing to celebrate the tradition of racing.
Sadly, we only stuck around for the first few heats.  Our friends Tom (SY Tiger Lilly) and Jan (SY Wakiya) stayed longer and both got to take the bulls for a spin! #jealous.
We missed the third day of the festival as we were touring other parts of the island, but on the 4th day, after we returned from renewing our tourist visas, we enjoyed watching a competitive game of Gangsing.
There was more dancing that evening, but from all the activity we'd been doing since arriving in Bali, we decided to stay on-board.
Just when I didn't think Lovina could get any better, on the final day of the festival, the city treated us to a farewell dinner followed by a Kecak dance on the beach at the end of the evening.
The dance was performed by 200 students and depicted a battle from the Ramayana. The predominance of the male performers were dressed in checked cloth around their waists, sitting in a circle percussively chanting "cak" and moving their hands and arms.
I was able to get a few photographs but we left the Go Pro at home so did not film it.  I found this video on YouTube if you want to get a taste for the sound and movements.
It was a remarkable performance that I feel blessed to have experienced. Lovina really knows how to put on a good show.  If traveling to Bali during the festival time, it is a must-see experience.
Jatiluwih – A UNESCO World Heritage sight, Jatiluwih was the most relaxing place I found on Bali.
These terraced rice paddies framed by Mount Batukaru and Mount Agung make use of traditional Balinese irrigation known as subak.
Although there were tourists here, one could still get lost on one of the longer walks through the Jatiluwih fields and feel a sense of solitude.
And at an altitude of 700 m, the cooler temperatures were very welcome.  Rather than stopping along the way on our 3-hour drive there, The Captain wisely suggested that we head there first.  Lucky for us because while we were treated to a bit of sunshine in the morning, friends visiting here later that afternoon were greeted by heavy rains.
Still, even in the rain, our friends said that Jatiluwih was a top destination on their visit to Bali. Actually, I wish we had skipped our other destinations that day and spent more time in this incredibly meditative landscape. Almost as peaceful as a sail in the open ocean.
Street Art – A few of the street artists that I follow were in Bali in July creating for the Tropica Festival. Sadly we weren't in Bali yet to see them in action but we did manage to make our way to Canggu with our friends Tom and Lilly from SV Tiger Lilly to see some of their works.
Our very patient driver Komang Andika (Phone +62 81 237 477 975 / WhatsApp +62 87 762 765 025) took me to several spots in Canggu to see murals created before and during the festival.
I've shared a few murals here but you can find all of my favorites in my Indonesia Street Art Gallery here.
Coming Next Up: September Part II: Karimunjawa and Central Java
Submitted for Cardinal Guzman's 'The Changing Seasons' and for The Daily Post Weekly Photo Challenge: Quest