After a two-day sail from Karimunjawa, we pulled into the very colorful river town of Kumai in Central Kalimantan (Borneo). The skyline included beautiful mosques, wooden homes and tall cement structures for bird nesting.
Edible bird's nests are a big industry in Central Kalimantan. 'Created by swiftlets using solidified saliva, edible nests are among the most expensive animal products consumed by humans with an average nest retailing for about US$ 2,500 per kilogram. These nesting houses are normally found in urban areas near the sea [such as Kumai], since the birds have a propensity to flock in such places' [1]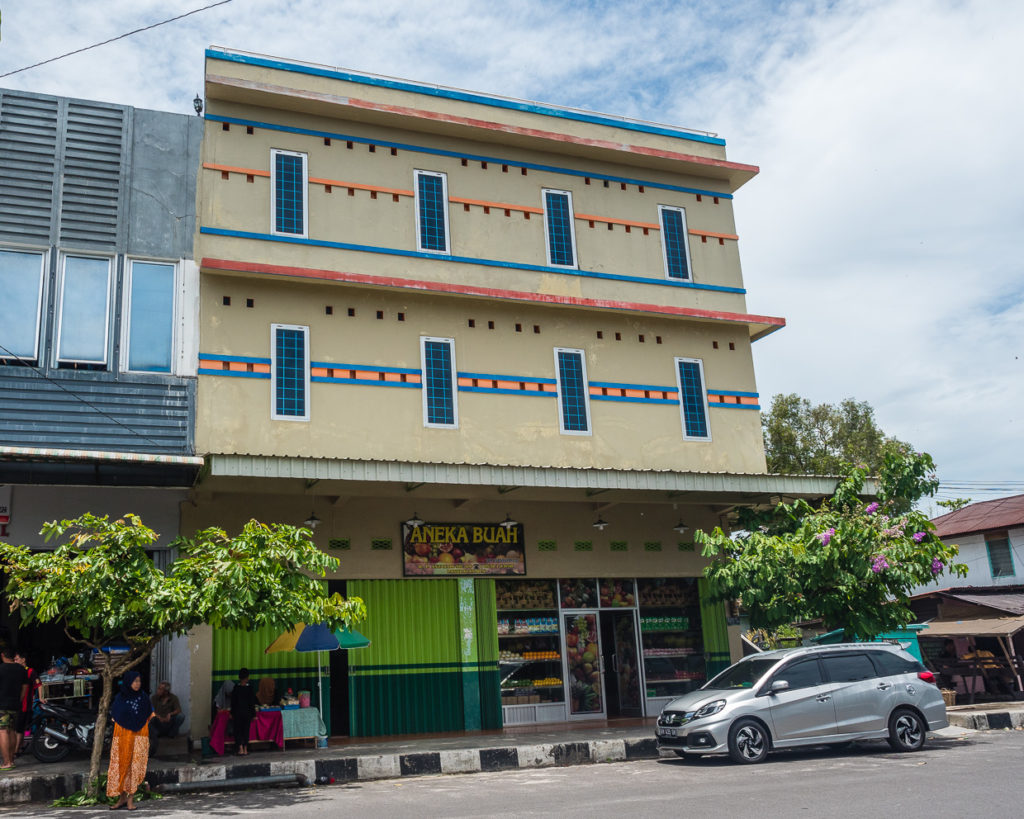 Rather than head into the anchorage, we rafted up with our friends on SV Tiger Lilly onto one of the ships moored in town.
It was up early next morning for a the first day of our four day tour of the area with our guide Siti. There are numerous options for tours of Tanjung Puting National Park and surrounding areas (1-12 people, 1-5 days). We signed on with Siti's Tanjung Puting Oragutan Tours and Klotok Trips and decided to go big (4 days with 10 other sailors).
Day one consisted of a city tour of nearby Pangkalan Bun, a visit to Istana Kuning (a former Sultan home), and the highlight for me, a trip up the Sungai Arut River via a small klotok boat to visit a local Dayak community living there; the Dayak are a local tribal group indigenous to Borneo.
The next day, we 12 sailors boarded a very large klotok which would be our home for three days. Our crew included a knowledgeable guide Andy, a skilled boat Captain and his First Mate.
We were kept well fed and hydrated throughout the entire trip thanks to the excellent team of cooks on board.
On the first day Tanjung Puting National Park we made our way from the park estuary into the Sekonyer River to one of four research stations. We were captivated by the magnificent landscape. 'Tanjung Puting National Park is the largest and most diverse protected example of extensive coastal tropical heath and peat swamp forest which used to cover much of southern Borneo' [2].
A natural wonder of the world and a UNESCO World Biosphere Reserve, Tanjung Puting National Park is one of the last places in the world to see orangutans in the wild.
'Despite being a protected national park, approximately 65% of the Tanjung Puting's primary forest is degraded due to palm oil production, illegal logging and illegal mining. It is the loss of natural habitat that is the greatest threat to the wildlife. Friends of National Parks Foundation is an Indonesian NGO that has been working to restore the habitat since 1997' [3]. Poaching and illegal pet trade also endanger wild orangutan populations.
'Orangutans are the most aboreal of the great apes and spend most of their time in trees. Their hair is typically reddish-brown, instead of the brown or black hair typical of chimpanzees and  gorillas. They are among the most intelligent primates using a variety of sophisticated tools and constructing elaborate sleeping nests each night from branches and foliage' [4].
Our first visit was an hour and a half upriver to the Tanjung Harpan Research Center within the park. There was an orangutan feeding in the late afternoon in a cordoned-off area that I found far less interesting than seeing the orangutans make their way through the jungle along our way to the feeding platform.
In the early evening, a welcome dance was performed at the Research Center.
We later moored off Sungai Sekonyer Village across from the Tanjung Harpan Research Center where the local populations that once in the National Park were relocated. Sadly, limited timeframes did not allow for a village visit.
On the second day we headed to Camp Leakey where  we mostly saw males traveling solo and mother's with babies as they are known to do during the first two years of life. In one instance, we saw a family together (male, female, baby)  but I failed to capture a decent image of them. I did manage to get a good view of Percy, a young male who greeted us as we were anchoring off Camp Leakey.
The original of the four research stations now in the park, Camp Leakey was founded by Birutė Galdikas who pioneered the study of the orangutan under the sponsorship of Louis Leakey and The National Geographic Society in 1971. She continues her field research and advocacy efforts today through her Orangutan Foundation International.
On our third and final day in the Tanjung Puting National Park, we headed back down the Sekonyer River to the Pondok Tanggui Rearch Station.
Here, thanks to my friend Tom on SV Tiger Lilly who spotted them first, I was able to capture images of a mother and baby making their way through the jungle. To spend time among the gentle giants of Tanjung Puting National Park was a humbling privilege and one I will not soon forget.
We returned home to Amandla in the evening and readied ourselves to sail onward.
Next Up: Belitung, Ketawai, and onward to Malaysia.
Submitted for Cardinal Guzman's 'The Changing Seasons'